Product Description
Robot Lawn Mower 158N is the update version for classic mower 158, on the basis of 158,with the more functions of password,Schedule,Language selection and subarea setting.
Technical Data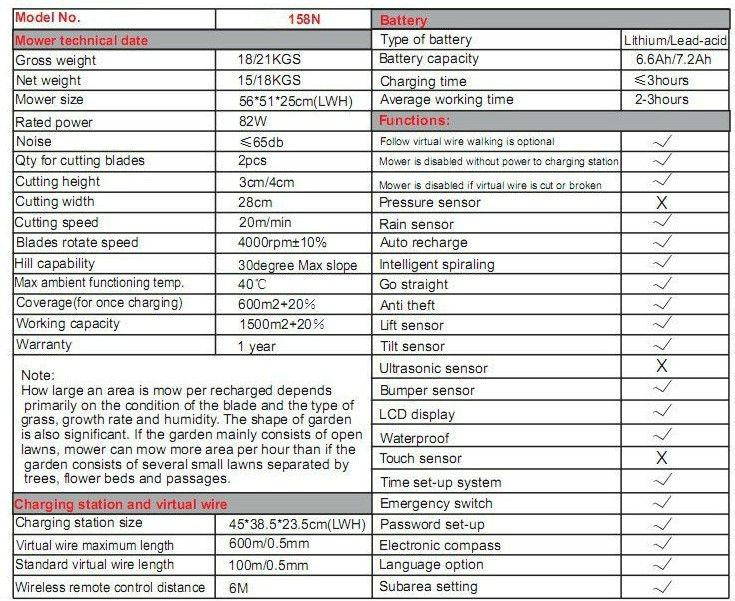 Detailed Description:
The robot mower, also know as electric robomower, is used for automatically cutting your grass lawn . It can use recharging station for use with 110v-240v volt power suppliers
At a glance:
1) Autmatic electric lawn mower
2) Fully remote control
3) Movement :360 degrees , up to 30 degrees slope
4) 12month warranty
5) Electric mower =no need to buy gas
How does it work ? This intelligent robot mower works two ways
You can use the included boundary kity to set up a wire around your lawn and have the electric robot mower cut the grass automatically
You can use the provided remote control to guide it yourself . For people who have allergies or who are just
Functions:
1.Full-automatic grass mowing with two models: go straight and circle (Highly efficient)
2.Envelop the mow area with virtual wire which is connected to the charging station. So the mower will not leave this assigned range when it is mowing.
3.When the mower is run out of power, the blade will stop working, then find the virtual wire and go to the charging station for charging. and it will go on mowing when it finishes charging.
4.The mow can change direction automatically when it meets obstacles.
5.Infrared ray can helps reduce the speed before the mower connected to the charging station.
6.It has rain sensor. When the mower is damped by rain, it will go to the charging station automatically
7.The blades will stop working if the mower has been lifted by someone.
8.The mower can estimate whether the circuit is overload. It will stop working to protect the inside circuit if its overload.
9.Humanistic adjustment for glass mowing height.(3cm and 4cm)
10.Remote control function