Product Description
2016 Newest Super Strong Suction Power Robot Cyclonic Vacuum Cleaner With Creative Cover
Working video: http://youtu.be/1ruev4RbVl4
Why choose our Robot? Just Read it
1.Creative Cover:You can design Any cover that you like, rose ,Cartoon, Bulding etc....So OEM are welcomed(200pcs accepted)
2. Super strong suction:Soy, rice can easily be adsorbed. You can see from the video.http://youtu.be/1ruev4RbVl4
3.Ultrasonic Sensor: make more sensitive than traditional infrared sensor model.
4. Updated Version with Turning Mop Part:
Make the Cleaning&Moping area is bigger than traditional fixed mop.
5.Update Material of the Rolling Brush:

Fiber and Aluminum alloy steel material
6: New Design Suction Mouth :

Automatically adjust the suction height according the different environment etc...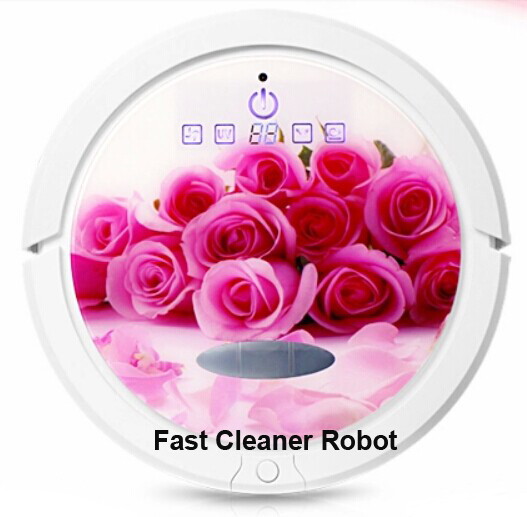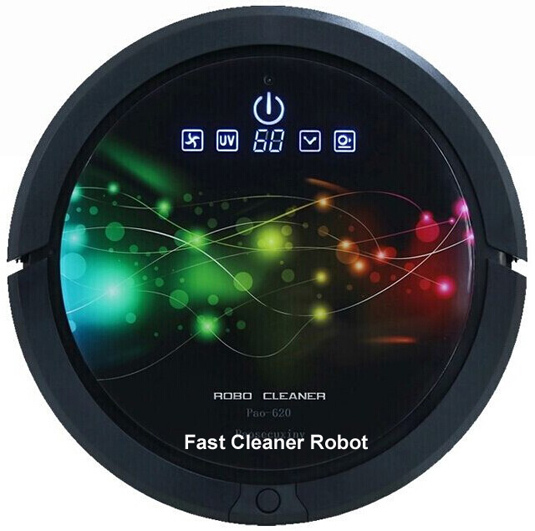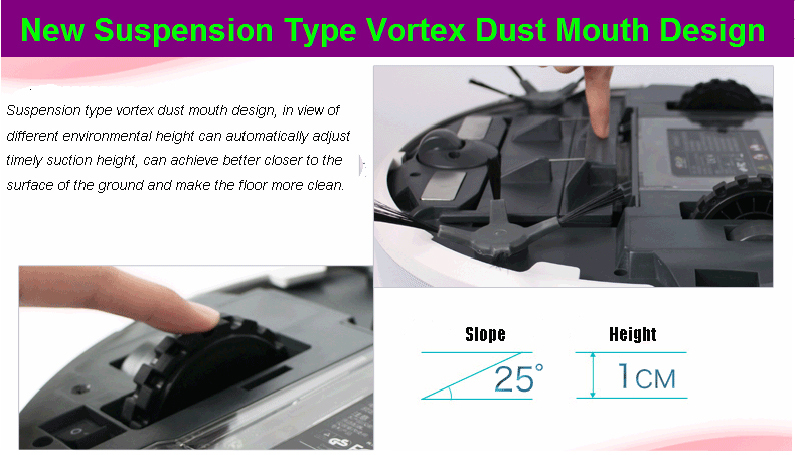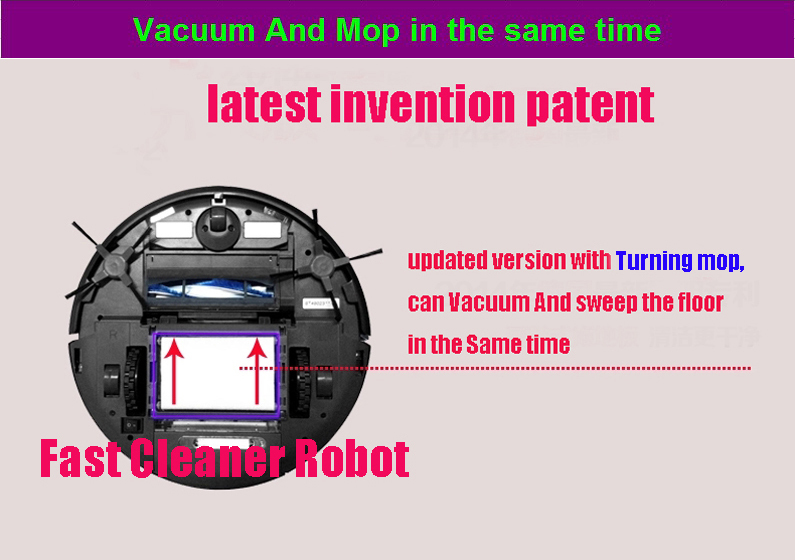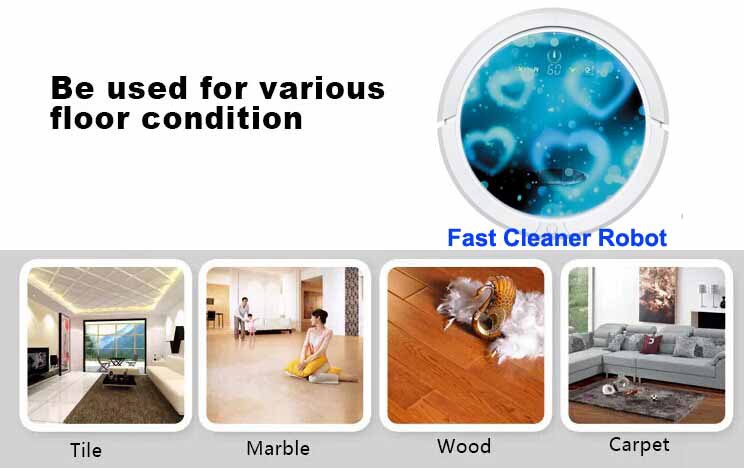 This product is a revolutionary automatic vacuum cleaner
1. Smart cleaning: Pressing the AUTO key, automatic vacuum cleaner will do cleaning in automatic condition.
2. Remote control: Wireless remote control.
3. Automatic charging: It will get into recharging mode in advance when theBattery is going to run out. And then it will search for charging base to charge automatically.
4. Ultrathin fuselage: It can drill down to the bottom of bed and sofa to clean.
5. five cleaning patterns: Along wall, Polyponal Spiral,Spot Spiral,Special Bounce)
6. 2pcs Side brush: The side brush is equipped in the right side of the fuselage, so that automatic
vacuum cleaner can clean the corners of the room conveniently.
7. Touch panel :You can master the working condition through the menu Display.
8. Anti-falling system: It can avoid dropping off from the table, stairs, and any other high Place under normal circumstances.
9. Material: Fireproof, waterproof and antistatic ABS with textured back shell.
10. Virtual wall(with Ulrtrasonic sensor): It can block area by sending special infrared signal so as to prevent the cleaner from entering some unnecessary areas
11. UV sterilization: It can kill bacteria in the house and create a comfortable and fresh environment.
12. Low noise and energy saving: The working noise is lower than 55dB.
13. Self-help: After being caught in 10s, the automatic vacuum cleaner will power off automatically for security.
14. Anti-collision system: The automatic vacuum cleaner will adjust the direction automatically when it runs into obstructions.
15.Garbage box full reminder:When the garbage box is full, the robot will you automatically with" FU" in the display.
16.Ultrasonic Sensor:Bulit-in ultrasonic detection instrument to determine the extent of the ground clean, make the cleaning more effective.
17. Upated Version with Turning Mop Part: Make the Cleaning&Moping area is bigger than traditional fixed mop.
18.New material of the roller brushes( fiber with Alum alloy steel) will make it more durable .
19.Suspension type vortex dust mouth design can automatically adjust the height according the different environmental height, will make the floor more clean.
20: Self Problem Check,when the robot have the problem ,it will shows the error code in the display.
Automatic Vacuum Cleaner Specification
:
Model NO.:

QQ6

Application:

Dry

Feature:

Without Bag

Classification:

Automatic Vacuum Cleaner

Type:

Cyclone

Certification:

CE

Color:

Blue Heart, Rose, Red,Black

Diameter :

33cm

Height

7cm

Weight:

3.2kg

Dust Bin Capacity:

0.4 liter

Speed :

18.5~20.5 cm/sec

Voltage:

DC 14.4V

Power consumption:

25W

Remote controller type :

IR

Indicator type :

LED with pattern

Noise Level:

Max. 55dB

Suction Power :

2.0m/sec

Sweep capacity :

rubbish size L: 6cm , Section : 0.9cm x 0.9cm

Cleaning Algorithms

1. Special Bounce

2. Spiral

3. Along Wall

4. "S" Shape

5. Polygonal Spiral

Charging Time:

2.5hours

Battery :

Ni-MH 2200mA

Running Time:

80 minutes

Room coverage :

4.8m*4m in 15min.

Crawling up ability :

8.0mmMax.

Non-colliding-sensor detected height

min. 5.5cm

Non-colliding-sensor detected width

45°in ahead >6.5cm ; -22.5°~-82.5°>2.5cm ; +22.5°~+82.5°>2.5cm

Non-colliding-sensor detected distance

<5cm
SPECIFICATION

Color

Blue heart&Red&Rose

Running Time

80 minutes

Voltage

DC 14.4V

Working Area

4.8M*4.0Min 20 min.

Power

25W

Charging Time

2.5hours

Noise Level

Max.55dB

G.W

4.6KG

Size

33cm*8cm(Dia*H)

N.W

3.6KG

Battery

Ni-MH2200mA

Gift box size

52.7cm*39cm*13.9cm

Dust Bin Capacity

0.4L

Carton Size

54*58.5*41cm(4PCS/CTN)
What`s in the colorbox?
1 X Main unit
1 X Charging base
1 X box of spare parts ( side brush *1 + filter* 1 )
1 X Remote Control
1 X Battery ( inside main unit)
1 X Charger
1 X Manual
1 X Cleaner brush
1 X Hair-cleaner-tool
1 X Mop Parts